Context
Kinshasa is sadly known for its so-called "child-sorcerers". The poorest of the poorest, these children - having been rejected by their families and neglected by society - haunt the streets of the capital, in survival mode. Deeply rooted in the local mentality, this belief denotes the fear of some struggling adults towards some of their children, who they blame for the situation they find themselves in and the difficulties they must overcome.
The "sorcerer children" then lose their status as a child, instead becoming demons or evil spirits that are dangerous to be around. Nearly 10,000 young girls referred to as "witches", from the ages of 10 to 17, haunt the streets of Kinshasa. Survival in such a hostile environment most often involves prostitution, or even the selling of the child.
AMADE and the association Vivre et Travailler Autrement, VTA (Live and work differently) have established a partnership in order to protect and take care of vulnerable girls, among whom are the girls accused of sorcery. The funding provided through this partnership enabled the care (housing, education, health care) of 30 girls, from 8 to 17 years old, as well as the reintegration of 17 girls in their family.
Fruitfull discussions between VTA and ACAY Association in 2017 led to the expression of real needs in terms of capacity building, in order to improve VTA's services towards its beneficiaries. This need was fulfilled in 2018, with a mission to share expériences and expertise around the protection of vulnerable children. At the end of this mission, a number of reccomendations were made by ACAY's teams, in terms of structuration as well as pedagogical and psychosocial approach
Activities
Since the beginning of the project in 2013:
- 30 young girls are taken care of at the VTA Centre (housing, food, access to school, healthcare and other needs;
- 14 young girls were reintegrated back into their families and received secondary or university education in Kinshasa;
- 3 young girls finished their studies at school and university level;
- The centre was renovated.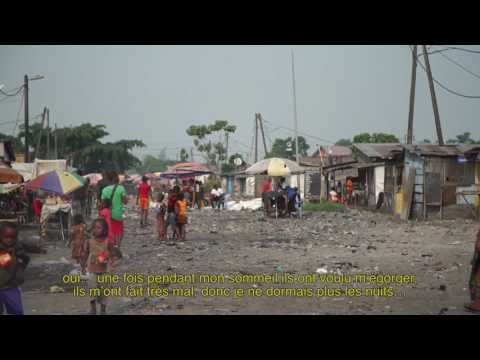 Protection
Support and reintegration of young girls leaving on the streets accused of witchcraft
Congo, The Democratic Republic Of The

Kinshasa

Project status

Completed

Duration

2019-2020

Funding

50 000 €

Beneficiaries

30 young girls being cared for in the VTA Centre
17 young educated girls having reintegrated back into their family

Partners

VTA Centre
REEJER

Objectives

To contribute in a sustainable way to the social reintegration of young street girls accused of witchcraft, from disadvantaged neighbourhoods in Kinshasa
Testimonies
Prisca
Read more
Prisca
"I thank AMADE for having supported me this year. I had difficulties paying the school fees but you help brought me so much including joy, peace, stability, hope and the desire to continue my studies in peace. This is why I worked hard and scored 73% - third in my class. Next year I will be in 10th grade. Thank you."
Close